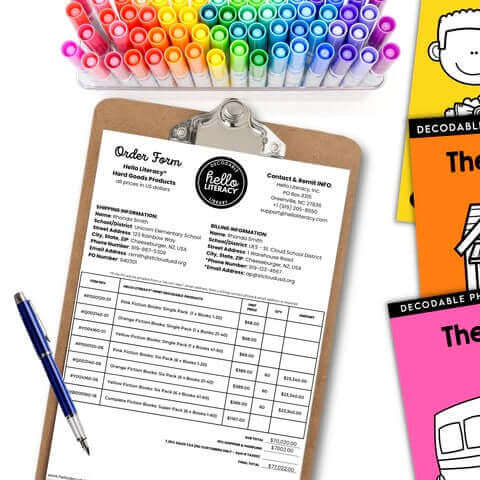 FOR U.S. SCHOOLS & DISTRICTS ONLY
Must be minimum of $1,000.
Purchase Orders
To process your Purchase Order, please complete the following:
Shop Hello Decodables:
Purchase Orders must include 10% Shipping & Handling.
Download and complete our Purchase Order Form HERE:
Submit Order Documents:
Order Fulfillment:
Once your Purchase Order is received and approved, your order will be fulfilled and tracking information provided via email.
Invoice & Payment:
Upon fulfillment, an invoice will be emailed to the Billing Email Address specified in the order for payment.
Purchase Orders can ONLY paid by check.
Purchase Orders must contain contact phone number. 
Other Policy Details:
Including a screenshot at the website checkout is not a quote. If you need a quote, please email support@helloliteracy.com and include the items you'd like to order and a shipping address.  
A Quote is generated by us and emailed back to you. 
Purchase Orders must include 10% for Shipping & Handling because paying with a purchase order is not paying up front. It is delayed payment for us and more paperwork for our office. If you do not want to pay 10% S&H, then do not submit a purchase order, but purchase the books with a credit card at checkout. 
Our payment policy is NET30. If your purchase order will require you to get board approval AFTER your shipment has been received then do not submit your purchase order until you the board has approved the purchase. NET60 and NET90 is NOT ACCEPTABLE.
If you have further questions, contact support@helloliteracy.com
Please unblock the domain @helloliteracy.com from your school system. If you do not, then our reply to your email may be blocked by your school system and you will never get reply emails from us. 
If you PO is over $20,000...allow 4-6 weeks for delivery, as we do not keep this amount of inventory in stock.